The Surf Club Four Seasons Hotel and Residences Details: Set on eight acres of pristine Atlantic oceanfront on Miami Beach immediately south of Bal Harbour. The Surf Club Hotel and Residences combines the elegant, purposeful architecture of Pritzker Prizewinner Richard Meier with a unique provenance and history. The result – two 12-story residential buildings comprising 150 homes situated between the ocean and the bay, flanking an intimate five-star hotel –offers the opportunity to live on today's vibrant Miami Beach while enjoying the low-key elegance of a more gracious age. Since its creation as a private social club in 1930, The Surf Club has played an important role in the cultural history of Miami Beach as a nexus for the most exceptional personalities of the era, from scions of industrial fortunes to the Duke and Duchess of Windsor, Winston Churchill, Frank Sinatra and Elizabeth Taylor. The original club's historical landmark structure, a Russell Pancoast-designed Mediterranean villa replete with ballrooms, bathing cabanas and the legendary Peacock Alley loggia, will be preserved within Meier's new architectural design. With almost fifty unique configurations within the 150 residences, homes at The Surf Club have been meticulously designed to anticipate the needs of virtually any lifestyle. Richard Meier's innovation and commitment to excellence is reflected in his work on both the exterior and interior architecture of The Surf Club Residences. Each home offers capacious living space and thoughtful features, with select homes that include private swimming pools, private elevator entries, interior tranquil gardens, ample designated parking and staff quarters. Every residence features a seamless integration of the indoor and outdoor living experience, making it possible to enjoy the abundant natural beauty of South Florida while preserving residents' privacy. With views stretching from Biscayne Bay to the Atlantic Ocean, each home is set against the ever-changing and luminous backdrop of a vast sky and expanses of water. The Surf Club is pleased to incorporate other features that make the experience luxe and convivial. A sumptuous spa is integrated into the property, offering a broad spectrum of wellness, beauty and fitness experiences. Two noted restaurants – one casual, one for fine dining –are on site. A lush garden with gracefully designed landscaping spans the area between the property and the ocean, and an on-site international concierge for residents will be available around-the-clock to insure that any need is met swiftly and easily. We look forward to welcoming you to The Surf Club Hotel and Residences, the most coveted address on Miami Beach. The Surf Club Four Seasons Hotel and Residences Residences:
Two swimming pools designated for residents only, set in a lush garden landscape
Two fitness centers designated for residents only, fully equipped and bathed in natural light
Numerous corner residences with endless views of Miami, Biscayne Bay, and the Atlantic Ocean
Access to a private 12,000 square foot health and wellness center with state-of-the art fitness equipment, private training rooms and a dedicated yoga and Pilates studio, as well as a full-service luxurious spa with saunas, steam rooms, and treatment and relaxation rooms
Ample, secure parking including self-park spaces, valet services, and a limited number of private locked garage spaces
A round-the-clock staff, including concierge, housekeeping, valet, private pet grooming, car washing service, and a discreet security team to insure residents' safety and comfort
The Surf Club Four Seasons Hotel and Residences Services: The service and discretion that has defined The Surf Club as America's premiere beach club has set the standard for The Surf Club Hotel. The Hotel's ambition is to create a level of individual and attentive service for each guest, and will incorporate individual butler service, personalized menus, and detailed guest profiles into a suite of services to make guests feel at ease and at home. Several carefully curated luxury boutiques will be open on site for guests' and residents' enjoyment and convenience.
Numerous corner residences with endless views of Miami, Biscayne Bay, and the Atlantic Ocean
Unimpeded vistas with sunrise to sunset exposure, and an open flow of space
Richard Meier-selected finishes, materials, color palette, hardware and interior details
Spacious master suites with two master baths and two dressing room with custom closets
Expansive, thoughtfully conceived bathrooms with freestanding sculptural bathtubs
Chef 's kitchens with custom cabinetry, side-by-side refrigerator and wine storage, six-burner gas cooktop, true exhaust kitchen hood, dishwashers, and back-up power for cold storage
Dedicated elevators with private vestibules
Sound attenuating concrete party walls
Multi-zone climate control systems
Ultra-high-speed connectivity, allowing for video conferencing and integrated media system Many residences offer staff quarters with private baths
Service entrance
Laundry room
The Surf Club Four Seasons Hotel and Residences State-of-the-Art Facilities: The Surf Club Hotel will feature a 12,000 square foot wellness center with a full range of state-of-the-art exercise equipment, a program of cutting-edge fitness experiences. A sleek, infinity-edge pool with arresting views of the Atlantic Ocean will be bordered by exclusive private cabanas. A full staff will be pool-and beachside to fulfill guests' needs, whether for a leisurely day or a morning swim. The Surf Club Four Seasons Hotel and Residences Spa: Private therapy rooms for holistic wellness and healing practices including massage and Ayurvedic treatments.
Bedrooms

1 to 5

Year Built

2017

Units

150

Stories

12

Average Price SqFt

$0

Average Days on Market

0

City

Surfside
Amenities at Surf Club Four Seasons
A round-the-clock staff, including concierge, housekeeping, valet, private pet grooming, car washing service, and a discreet security team to insure residents' safety and comfort
Access to a private 12,000 square foot health and wellness center with state-of-the-art fitness equipment, private training rooms and a dedicated yoga and Pilates studio, as well as a full-service luxurious spa with saunas, steam rooms, and treatment and relaxation rooms
Ample, secure parking including self-park spaces, valet services, and a limited number of private locked garage spaces
Dedicated service elevators for staff and deliveries
Two fitness centers designated for residents only, fully equipped and bathed in natural light
Two swimming pools designated for residents only, set in a lush garden landscape
Surf Club Four Seasons FLOORPLANS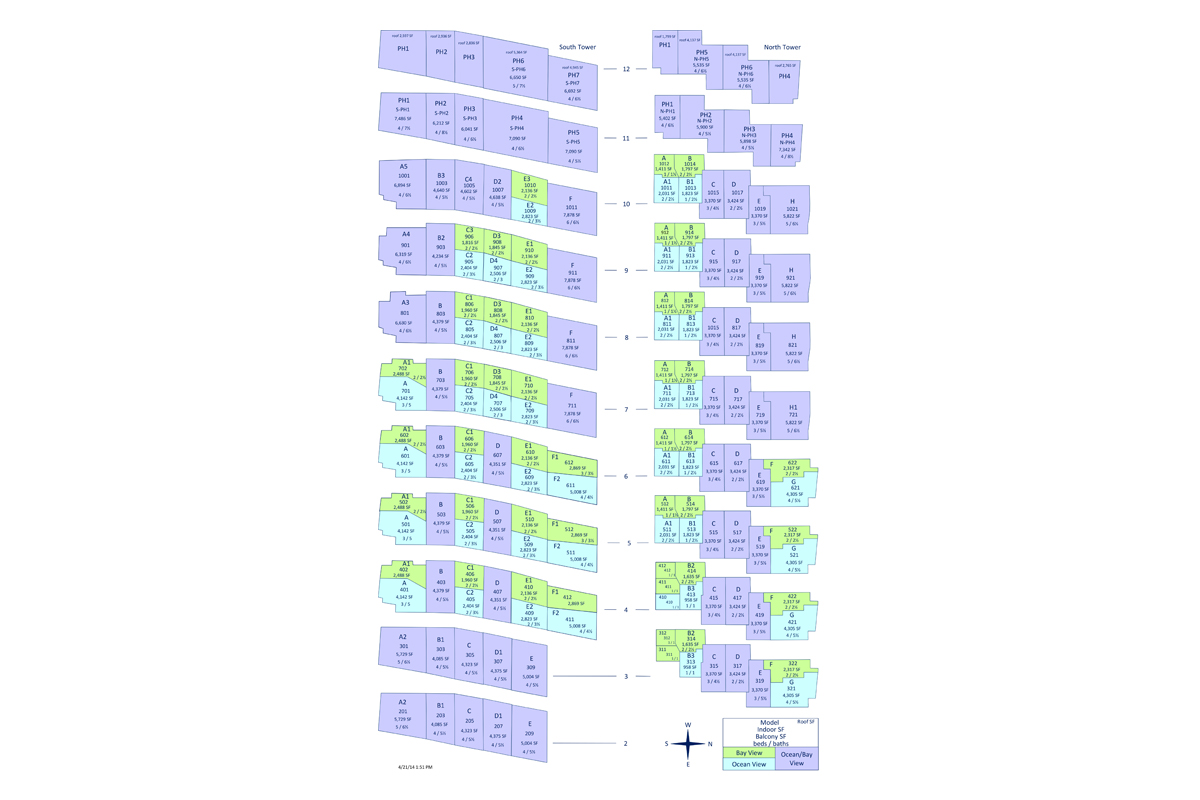 Model
Line

B/B/H

Beds/Baths/Half Bath

Size SQ FT Inside
Size m² Inside
Size SQ FT Exterior
Size m² Exterior
Floorplans
B
514, 614, 714, 814, 914, 1014
2/2/1
1797
167
395
37
Download
B1
513, 613, 713, 813, 913, 1013
1/2/1
1823
169
303
28
Download
A
512, 612, 712, 812, 912, 1012
1/1/1
1411
131
198
18
Download
B2
314, 414
2/2/1
1635
152
395
37
Download
D North
317, 417, 517, 617, 717, 817, 917, 1017
2/2/1
3424
318
624
58
Download
E North
319, 419, 519, 619, 719, 819, 919, 1019
3/5/1
3370
313
704
65
Download
F North
322, 422, 522, 622
2/2/1
2317
215
519
48
Download
A1
402, 502, 602, 702
2/2/1
2488
231
465
43
Download
A5
1001
4/6/1
6894
640
825
77
Download
C2
805
2/3/1
2404
223
499
46
Download
C4
1005
4/5/1
4602
428
499
46
Download
D South
407, 507, 607
4/5/1
4351
404
758
70
Download
D1
207, 307
4/5/1
4375
406
586
54
Download
D3
708, 808, 908
1/2/1
1845
171
254
24
Download
E South
209, 309
4/5/1
5004
465
637
59
Download
E1
410, 510, 610, 710, 810, 910
2/2/1
2136
198
307
29
Download
F South
711, 811, 911, 1011
6/6/1
7878
732
1392
129
Download