IL Villaggio South Beach Condo Details:
What does a name like Il Villaggio bring to mind? European design, elegance, and attention to detail are three things that may spring into your thoughts and you would be right. From the stunning Atlantic Ocean white sands running directly up to the four story all glass lobby to the white glove service, Il Villagio delivers on the promise of total opulence.
Further capturing the charm of this South Beach real estate are the boutique shops sitting below the Il Villagio and running down world renowned Ocean Drive. The charming gatehouse manned by 24 hour security and valet staff make access to the property a breeze for owners and provides the high level of security that residents of Il Villaggio deserve.
Eleven private elevators lie off the main lobby which allows direct, secure access to your foyer. Condos at this magnificent Miami Beach real estate feature high-end appliances and hardware throughout, huge floor-to-ceiling glass windows, and marble flooring.
Amenities at the Il Villagio include a wonderful infinity edge pool, beachside lounges and towel services, fitness center and more. Allow the concierge to handle reservations or a babysitter while the valet has your car washed.
IL Villaggio South Beach Condo Features and Amenities:
24hr concierge
24hr security
24hr valet
Stunning multistory glass and marble lobby flows through to beach
Beachfront lounges and towel service
Heated, infinity edge swimming pool
Coded elevators and private foyers
Modern fitness center
Sauna
Club room
Picnic area
Floor-to-ceiling glass
Spacious balconies with glass railings
Marble flooring
Penthouse special Features - private rooftop sunning area and Jacuzzi
IL Villaggio South Beach Condo Kitchen:
Miele appliance package
Sub-Zero refrigerator
Wine chiller option
IL Villaggio South Beach Condo Bathrooms:
Kohler bathroom fixtures
Marble Vanities
Bedrooms

1 to 3

Year Built

1999

Units

125

Stories

17

Average Price SqFt

$0

Average Days on Market

0

City

Miami Beach
Amenities at Il Villaggio
Beachfront
Boutique Shopping
Gym
Heated Infinity Pool
Lounge
Private Elevators
Sauna
Valet
Il Villaggio FLOORPLANS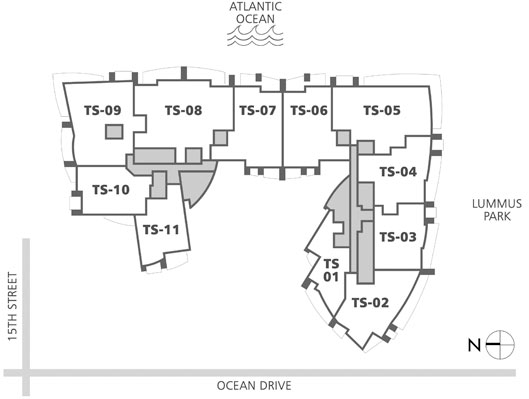 Model
Line

B/B/H

Beds/Baths/Half Bath

Size SQ FT Inside
Size m² Inside
Size SQ FT Exterior
Size m² Exterior
Floorplans
01
1/1.5/0
1,209
112.3
Download
02
2/2.5/0
1,793
158.2
Download
03
2/2.5/0
1,551
144.1
Download
04
2/2.5/0
1,661
154.3
Download
05
3/4.5/0
2,306
214.2
Download
06
2/3/0
1,781
165.5
Download
07
2/3/0
1,810
168.2
Download
08
2/3.5/0
2,824
262.4
Download
09
3/4.5/0
2,245
208.6
Download
10
2/2.5/0
1,453
135.0
Download
11
1/2/0
1,367
127.0
Download