1 Hotel & Homes sits on several hundred feet of shoreline within the heart of South Beach, defining luxury condos in the Miami Beach area. They are on Collins Avenue, one block above 23rd Street, the unofficial line between north and south. This location gives its residents a moment of peaceful escape within the vibrant city we know and love.
The process began with deconstruction. Along the length of our beachfront, they removed interfering structures, pulling back old construction to extend the sands up to their door.

Once the beach was brought to a natural state, they brought its peaceful energy through the rest of the property. Creating more places that felt like an extension of the beautiful shoreline. With painstaking effort, these South Beach luxury condos became more like an uninterrupted moment of nature. While the beach itself is six hundred feet, its influence extends well beyond where the water meets the sand.
While the shoreline is important, the nature of South Beach extends to the people who live there. While the beachfront brings nature into our daily lives, cultural opportunities are equally robust.

Luxury Condos that are steps from everything in South Beach, 1 Hotel & Homes is a member of the dynamic and vibrant Lincoln Road neighborhood, a short walk from the shops, museums, architecture and restaurants that make Miami famous. While tourists frequently occupy South Beach's southern tip, this area offers incredible places and authentic experiences while keeping everything else within arm's reach.
Bedrooms

1, 2, 3 and 4 bedroom

Year Built

2014

Units

580

Stories

17

Average Price SqFt

$0

Average Days on Market

0

City

Miami Beach
Amenities at 1 Hotel & Homes South Beach
Botanical Services
Catering
Gourmet Restaurant
Gym
Housekeeping
In-Residence Massage
Personal Shopping and Delivery Services
Personal Training
Pool
Pre-Arrival Kitchen and Pantry Stocking
Rooftop Pool
Spa
Tesla Charging Station
1 Hotel & Homes South Beach FLOORPLANS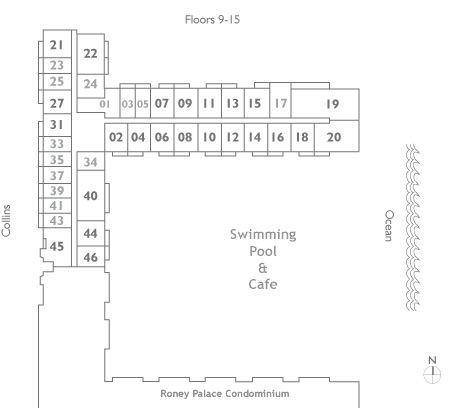 Model
Line

B/B/H

Beds/Baths/Half Bath

Size SQ FT Inside
Size m² Inside
Size SQ FT Exterior
Size m² Exterior
Floorplans
08
1/1/0
939
87.2
Download
12
1/1/0
939
87.2
Download
16
1/1/0
939
87.2
Download
27
1/1/0
939
87.2
Download
04
1/1/0
939
87.2
Download
44
1/1/0
939
87.2
Download
06
1/1.5/0
970
90.1
Download
10
1/1.5/0
970
90.1
Download
14
1/1.5/0
970
90.1
Download
18
1/1.5/0
970
90.1
Download
13
1/1.5/0
970
90.1
Download
31
1/1.5/0
970
90.1
Download
921
1/1/0
1,000
92.9
Download
1021
1/1/0
1,000
92.9
Download
1121
1/1/0
1,000
92.9
Download
1221
1/1/0
1,000
92.9
Download
1421
1/1/0
1,000
92.9
Download
1521
1/1/0
1,000
92.9
Download
09
1/1/0
868
80.6
Download
11
1/1/0
868
80.6
Download
907
1/1/0
951
88.3
Download
1007
1/1/0
951
88.3
Download
946
1/1/0
872
81
Download
927
1/1/0
926
86
Download
922
2/2.5/0
1,605
149.1
Download
1022
2/2.5/0
1,605
149.1
Download
1122
2/2.5/0
1,605
149.1
Download
1222
2/2.5/0
1,605
149.1
Download
1422
2/2.5/0
1,605
149.1
Download
1522
2/2.5/0
1,605
149.1
Download
920
2/2/0
1,481
137.6
Download
1020
2/2/0
1,481
137.6
Download
1120
2/2/0
1,481
137.6
Download
1220
2/2/0
1,481
137.6
Download
1420
2/2/0
1,481
137.6
Download
1520
2/2/0
1,481
137.6
Download
945
2/2/0
1,239
115.1
Download
1045
2/2/0
1,239
115.1
Download
1145
2/2/0
1,239
115.1
Download
1245
2/2/0
1,239
115.1
Download
915
2/2.5/0
1,687
156.7
Download
1015
2/2.5/0
1,687
156.7
Download
1115
2/2.5/0
1,687
156.7
Download
1215
2/2.5/0
1,687
156.7
Download
940
2/2.5/0
1,597
148.7
Download
919
3/3/0
2,122
197.1
Download
1019
3/3/0
2,122
197.1
Download
1119
3/3/0
2,122
197.1
Download
1219
3/3/0
2,122
197.1
Download
1419
3/3/0
2,122
197.1
Download
1519
3/3/0
2,122
197.1
Download
904
3/3/0
1,975
183.5
Download
1004
3/3/0
1,975
183.5
Download
1104
3/3/0
1,975
183.5
Download
1404
3/3/0
1,975
183.5
Download
1504
3/3/0
1,975
183.5
Download